I love to write this blog. I also love to read blogs.
So my friend Lena over at
Mom2MempisAndRuby
and Chelsea from
Sunny with a Chance of Sprinkles
are hosting a friendly Friday link up,
and I'd like to post about some people I'm currently Blog Stalking.
Don't give me that look. You do it too!
The Letter 4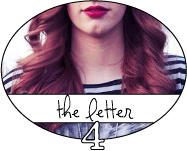 Duh. We've been down this road before. But I also Facebook and Twitter stalk them. Not only are they sisters, they are lovely, and they blog together. Each one has a specialty. Like cooking or hair tutorials. Then they post their speciality. Seriously if you have yet to meet these lovely ladies, go! Go now, I won't even be mad if you don't finish this post. You however will be sorry. Because I have more amazing lovelies to go round.
Much Love Illy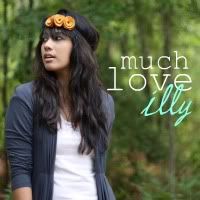 Seriously she is the cutest. She is also the most fashionable person to cross my path in a while. Her outfits and pieces are amazing. She makes brightly colored tights look wearable and she has an
Etsy
. She is just lovely, and she has a deep seeded love for Edward Cullen, and Twilight which makes me love her more. Check her out. I also follow her on Twitter. So I love to Twitter stalk as well. Check out her blog. You won't be sorry.
Lenora Jennifer @
YellowHeartArt

Worker bee by day, awesome graphic designer/
blogger by night
. This girl is Legit. It's the only word I have that makes sense for her. She makes amazing plush cameras (
Etsy here
). Here designs are clean and beautiful. Lately some people have been stealing her work, and I want to punch them in the face. She makes me laugh with just about every tweet! I find we like a lot of the same things, AND she loves taking pictures and posting Instagram. Therefore, I stalk her on Twitter and Instagram.
Annie Sauce
I don't know where to begin. I just started to blog and twitter stalk her. She is so real and honest I want to jump through the screen and hug her. She had to make some serious changes in her life to be happy. She even had to sacrifice some feelings. All I can say about that is, brave. She also has mad fashion and a great sense of humor. I have nothing but love for AnnieSauce, with one small exception...She cheered and went to Boise State. I went to and have love in my heart for my cherished Fresno State. I hope she will love me anyway. And I hope my hubby won't threaten divorce when he finds out I'm blog stalking her.
Tricia @
Mamma Marchand's Nest
I've been admiring her from afar for a while, but just recently started following her on Twitter. I'm also following her blog. She is a mama to the core. Plus she makes the
prettiest little things
your heart will sing and swoon. The most amazing part about all of this is that she actually reads my blog. Yeah, this one. This little ole bloggy! When I see her comments my heart skips a beat. No joke. When you meet her you are going to fall in love. Your welcome in advance!
Those are my current bloggy crushes.
Sure all my new sponsors in my sidebar are my crushes too, but I'm going to be talking them up all the time.
I
wanted to let you all in on some of my secret and not so secret crushes.
I just hope they don't take a restraining order out on me!
Happy Blogging and stalking,
Megan