I was so excited when
Kassi
was interested in swapping ads this month.
I love meeting new bloggy friends,
and I had been quietly stalking from afar!
That said, we are swapping spots today!
Check out this awesome idea about being thanful.
That's right, slowing down and really being thankful.
Let's hear mor about it from Kassi, shall me?
I am super excited to be snagging some space here on
Megan's lovely piece of blogland today!
Truly Lovely is an 'all things lovely blog' written by me and my sister, Kayli.
You can click that picture to learn more about us and our blog, but in the meantime I'd love to share this pretty awesome idea that Miss Kayli came up with...
Being thankful! Monumental right!?!
Who does that... I mean really, how many of us actually take time
from our day to think about what we're thankful for?
Raise you're hand? Go ahead nobody's looking...? Anyone?
Me neither. *hangs head in shame*
list a few things that you're thankful for every week.
There's even a cute little button and a linky party!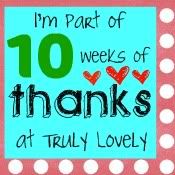 She's already on week ten, but I'm a little behind so I'm going to share my week seven with you dolls. Mostly in hopes that you'll take a minute at least today and think about what you're thankful for!
(there's a different topic every week).
I'm thankful for South Padre, Texas.
It was the first time the hubs got to see the beach and the ocean.
Our first real vacation together that was just for fun and wasn't to Las Vegas... haha.
Speaking of Las Vegas... I'm thankful for Vegas!
It was our first vacation as a couple! Our first airplane trip together.
The place we tend to visit once a year.
It's not all that far away from AZ but far enough for a fun little trip.
We've driven there over the dam, flown there from Phoenix, AZ and El Paso, TX.
Stayed at The Flamingo, New York New York, South Point.
Vegas is what we consider OUR vacation spot.
I'm thankful for a little town in Arizona.
The town where we got married.
A place only over the state line from where I grew up in NM...
With towering mountains and green pine trees. Love it there. :)
So what about you?? What places are you thankful for?? We'd love to know! If you have time today or even within the next week or so, we have
a link up open where you can share a post about it
. Or if you'd just like to share in the comments here that would be awesome too. :)
AND when you're finished, Megan is over at my place right now and I'm sure she'd love a visit from her lovely readers!
Have a lovely Thursday dolls!!!
Thanks again Kassi!
Make sure to give Kassi some blog love today.
And if you like to Tweet, send her one
here
!