So you know how you stay up really late one night finishing Christmas crafts that seem totally logical and easy when you pin them, but then end up being the bane of your existence? What? That just happens to me? Well that was my Monday, then Tuesday, my hubbs and I stayed up talking about an important meeting he had a work, then Harry Potter came on and well... So last night was the night for an early bed time. The kids fell asleep early, the hubbs too, so I was all set to catch up my Tuesday night shows. The Mindy Project (Christmas episode) and Private Practice, since I can't quit a single thing Shonda Rhimes ever does (#whattheHUCK).
Anyway, I was all ready to go to bed when I was looking at my friends on Twitter and Instagram and everyone (I'm looking at you
Summer
) was talking about Parenthood. I haven't watched Parenthood in at least 2 seasons, but everyone and
Munchie's Mama
was talking about it, so I checked on demand and there it was. So I stayed up waaaay past my bedtime, only to fall in love with the show again, and ugly cry on my couch.
Since I'm puffy eyed today, I'm bringing Kristen from
Whiskey Tango Foxtrot
to the blog.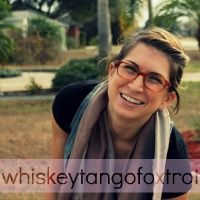 She is sharing a recipe that's simple and delicious. I've been stalking this gal for awhile on Instagram, we are kind of nerds of the same feather (Harry Potter!). Also she just joined the mama club as she is about 12 weeks preggo! Go and congratulate her, and check out this awesome
wreath of book pages
, tutorial included!!

I am so excited to be a part of Megan's blog today.
Seriously, I fell in love with this girl with the introduction of B. Fiddlesticks and I can't get enough of his shenanigans and how creative she is with all of this.
Obsessed.
I'm sharing one of my favorite recipes with you all today.
Its seriously the easiest thing ever and my go to when we have people over.
Anytime newlywed wives ask me what recipes will knock their husbands socks off,
this is the one I show them.
My husband asks for this twice a week.
He will even skip the gym that night, it's that good.
His diet is thrown out the window after his first bite.
His first delicious, ricotta-oozing everywhere, saucy bite.
Making these again tonight.
Look, its so good that I'm writing poems about it.
See the cheesy goodness?!
And don't let these intimidate you.
They were seriously the easiest things to make.
1 cup shredded mozzarella
10 oz frozen chopped spinach
Get a large pot of water boiling. Add the lasagna noodles and cook until al dente (about 12-15 minutes).
Thaw the package of frozen spinach in the microwave and then squeeze out as much liquid as possible.
Combine the spinach in a bowl with the ricotta, mozzarella, Parmesan, and a dash of salt and pepper.
STEP 3:
Preheat the oven to 400 degrees. Coat a glass casserole dish with non-stick spray.
On a clean surface, lay out a few noodles and spoon the filling onto each one.
The filling layer does not need to be thick, as you will roll these up.
STEP 5:
Roll the noodles up into bundles and place them in the casserole dish.
Repeat until all of your filling is gone.
Spoon the pasta sauce over the bundles making sure to cover all surfaces.
The sauce keeps the noodles from drying out and becoming hard.
If a few noodles break its okay, just throw them out and use another.
You will have plenty left over!
STEP 6:
Cover the dish in foil and bake for 30 minutes.
Be prepared to have your mind blown.
XOXO