What We Wore: Mother's Day
It was fantastically hot on Mother's Day, which is super scary,
because today is May 16th.
A Fresno summer rarely ends before October 31st.
So I totally dressed for a comfy and relaxed Mother's Day.
sorry this isn't the best picture, Caitlin took it.
Ballerina Shirt with capris, and tutu skirt: JC Penny's
Hello Kitty Ballet Flats: Target (are you dying?)
Bottle: Because I'm not ready to take it away.
Fancy Tank Dress: Gymboree Outlet (Tulare CA)
Necklace: Gymboree Outlet
Wrap Around Floral ankle Flats: Target
Now, for my Mommy Moment of the day:
That my friends is Caitlin's cap and gown.
For preschool graduation in 2 weeks.
I'm so not ready for this.
I know, I know, I've had since August to wrap my head around it.
However, it feels like I was preggo with her yesterday,
roasting in the Fresno sun.
What's your Mommy Moment of the day?

Be sure to check out Our Reflection's linky party: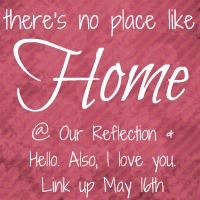 And please stop by and say hello to: