So I met a new friend. Her name is Noel, that's "no-el", and she has this super fab blog where she talks about her beautiful life, her faith, poetry, the bible, really let's just say she blogs about everything. And of course I'm smitten. So when I got a lovely email inviting me to link up, how could I say no? I mean obvs she reads this blog and knows I have yet to meet a link up I don't like.
So here we go with Love/Hate, which is a super cool way to get out some stuff you may or may not be sitting on. And of course with every linky it's a chance to meet new peeps. I have a feeling that this won't be the only Love/Hate post around here... It's way too fun.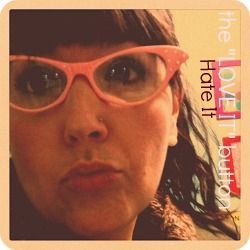 Link up your own Love/Hates
here
Love: 24 hour toddler programming
What did we do before Nick Jr and Disney Jr?
Love: Sunday night programming,
Don Draper, Eric Northman
Hate: Having to say goodbye to Don,
it was the Season Finale!
Love: Posting WIW on Wednesdays
Hate: Forgetting to take pictures of the
2 killer outfits
I wore last Saturday.
Blogger fail!
Love: This summer fruit salad
Hate: The price of fruit
Love: A trip to the farmers market
Hate: It's supposed to be 102 on Friday,
the day of said farmers Market!
Love: That I found this magazine cover on Pinterest.
Hate: That I no longer own said magazine,
and that they don't make them like this anymore!
Love: Blogging the night away
Hate: my 6:30 am wake up call
Love: Link ups something fierce
Hate: Saying goodbye to this one