Want to know about our life lately?
Yes, I dream about eating bread at least once a week.
Me and my gal got inked...
I just love all the #WIDN tagging on Instagram!
Even if I get tagged doing absolutely nothing.
Like a good stay at home mom should, right?
Yes that is a book and a remote
and a sleeping baby in my lap.
Also my take on breakfast to go.
A few of me and Mac just chillin.
And me with my feel up in the front yard.
We can cross night swim off the bucket list.
We had a little evening swim party.
With ice cream of course.
How do you like those ice cream 'staches?
We started ballet and tap this week.
I realize that those tap shoes need bigger ribbons,
Also tap shoes with pink tights are so girly don't ya think?
Cutest ballerina? Double check!
Mac started swim lessons this week.
And I got a surprise work out.
Why didn't you guys warn me that "mommy and me" classes are hard?
I'm too out of shape to be lifting 25 lbs over my head while swimming!
Ok, so it's not that bad.
You just can't tell by these pics.
What have you been up to lately?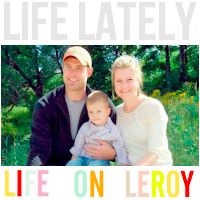 Have you met
Chelsea
?
What?
You must!
Go there now and enjoy the fun!