Rings: Wedding Ring/Pearl Ring: Silpada
I had another opportunity to get "dressed" again last week.
Caitlin was invited to a classmates birthday. So the four of us went as a family. Let me tell you in advance that the birthday boy's mom invited the entire class. Both a.m. and p.m. kiddos. It was a little crazy, but it was really fun.
Here is what I loved about it. This birthday party mama was a take charge kind of gal. She didn't let anything or anyone stand in her way of getting our party on. And she wasn't afraid to raise her voice. As in, if your kid wasn't behaving properly she let them know, in the nicest way possible, of course, but she let them know.
Now believe me, I do not tolerate someone else yelling at my kid, but if my child or children are out of control, I can appreciate something being said. This mama was totally on her game, and wasn't scary or hurtful. She was just "in charge".
I have a soft place in my heart for her. I had to do this once with a three year old and a whistle. It left me embarrassed and horrified that I had actually yelled at some one's kid. Has that ever happened to you at one of your kiddo's parties? Did you have to "take charge" of a kiddo situation?
It also brought up another point that me and another mom were laughing about.
Isn't your child's birthday party the most stressful day of your life?
It's like your getting married all over again. It's usually the day me and the hubbs fight about things like ice and butter cream frosting. Things that mean nothing out of context, but on birthday party day mean everything. That's what also had me giggling at this party. The birthday party mom and dad, were doing the usual Husband and Wife routine. She didn't like the placement of the balloons, he didn't like the placement of the bounce house, and someone overstuffed the pinata. Laughable now, but to them, on that day, it was huge.
So how did I do? Did I make good on another WIW? Do you think I needed a belt? Let me know because this was so comfy, it will be worn again.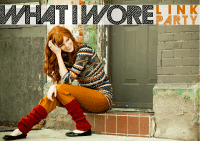 PS: Don't forget! It's Leap Day!!
What are you doing with your extra day?