Yeah, I'm wearing a back brace.
I make it look good.
Right?
 
I hurt my back. Like almost 2 weeks ago. I have never done something like this before. Thank God, by the way because the last 10 days or so have been torture. Note to self: Don't pick up 4 year old when she is 42.5 inches tall and you are only 60 inches tall. And PS, don't try to put her in the back of the Costco shopping cart either. You will break your back or come close. Apparently I didn't get that memo quickly enough.
So for about a week I lived in leggings or sweats, flannel shirts or oversized sweatshirts, so that my oh so fashionable back brace could be worn under said clothes. I'd like to say this was a stretch from my normal wardrobe, but I won't lie. I just felt frumpy because of a back brace that stuck out and made me look a little padded around the middle. Oh well, at least I could walk, and kind of drive. Did I mention that this really, really hurt? Today it feels better than Saturday, which is a huge stretch. Saturday was spent on the floor on an ice pack or in said brace. Don't try this at home folks, back injuries take serious talent!
That brings me to WIWW. The Sunday after I hurt my back, one of my dearest friends suggested dinner to celebreate her birthday and get her out of the house. Sounded good to me. Then I started to think about what I wanted to wear. I started to think, how does one camo a back brace.
I knew a few things for sure: 1- Red Jeggings were a must; 2- My new earrings and ring from Made By Munchies Mamma (Blog/Shop)needed to see the light of day; and 3- My new handmade scarf I won during the Lollipops giveaway was going to make it's debut. Said scarf is from BlueCorduroy (Blog/Shop), and the pictures will never do justice to how beautiful and soft it is!
Red Jeggings - Target / Floral Tank Blouse - Ann Taylor Loft ages ago / Grey longsleeve T - don't remember / Boots - Kohl's / Grey canvas pea coat - Old Navy / Green rosette earrings, Orange rossette ring - Made By Munchies Mamma / Turquoise scarf - Blue Corduroy / Back brace (not pictured)- CVS
So what do you think? Did I rock this back brace or what? Is it the new black? I know you are all going to hit your local CVS today to rock your own.
Just don't be in pain when you do it!
Happy Blogging,
Megan
Linking up with some of my favorite gals!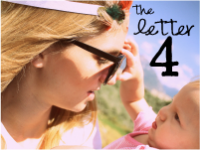 And also here!
Real Momma, Real Style #48