Since I try not to post twice in one day,
I'm double teaming this post today.
First you will see what I got in Yellow Heart Art
and Much Love Illy's Arm Party.
You can see it and the other linkys here.
Then you can feast your eyes on some serious man candy.
Lena's Tuesday 10 is all about TV boyfriends,
and much to my hubbys dismay,
I have a few...
So sit back and relax.
This post is all about parties.
Arm Parties.
Man Candy Parties.
What more could a girl ask for?
This is the bracelet that I got!
It's from thee sweetest little blogger
Kiana
.
Baking, Fashion, and Band Camp
.
You don't get cuter than Kiana.
So here is some of her handy work.
I just love it.
And I know it looks a little lonely all by itself,
but I'm working on wearing more accessories.
This gives me the motivation.
This is the bracelet that I gave.
Yeah that's a hose clamp.
I had so much fun making this.
It doesn't look like the one I pinned exactly,
but I can't wait to make one for me!
You can find the tute
here
!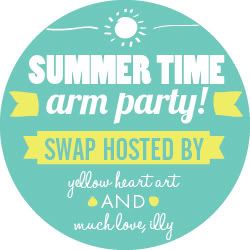 Now for your viewing pleasure.
My 10 TV boyfriends.
Don Draper. Sexy Smoker. Ad Exec extrodinaire.
1960s ladies man, with a heart underneath it all.
Master of the conversational joke.
SNL, Sully and Denise, Weekend Update,
The Barry Gibb Talk Show.
The first young republican I ever loved.
Still have a mad crush on this guy.
Who, if real, would most likely be president!
How I waited longingly in my 20s for a limo to roll up,
with this guy in the window.
Arrogant. Rich. Handsome.
What more could a girl ask for?
I'd be Lost with him on any island.
Loving con man with a heart of gold.
Just because he is so boyishly adorable.
Just because he is so smitten with Pam.
Ted just wants to fall in love and get married.
Where were these guys in college?
Plus he makes so many mistakes, is so awkward,
Eric Northman.
A Vampire who doesn't sparkle.
Sexy, brooding, from the Old Country.
He pretends he can't love or be loved.
He is so wrong.
Don't let these pictures fool you.
He does smile.
When he bites.
video courtesy of youtube.
So do you like any of these TV boyfriends?
Leave a comment if you linked up too, so I can see yours.
I hope this set you on the right track to have a fabulous day.
Or should I post more pictures of Eric?
For more mens click here!

Stop by and Become Fabulous with Tranae!!